In my Defining Words series I take a position on what certain words mean because I believe using these words correctly is foundational to having an intelligent discussion about strategy, design, operations and technology.  After all, we are not really exchanging words–we are exchanging concepts.
But what we are left with is still a mess of concepts that can be difficult to get our arms around.  First of all we need to pick a context because words are frequently used differently in different contexts to represent different concepts.  For this series, the context is doing strategy in the financial services industry.
Then we need to create an ontology.   To describe all of the relationships between our concepts I will model our ontology in analysis level UML.  Obviously, the below diagram is both incomplete and flawed.  For example, does the strategy not track trends directly, irrespective of any forces?  But if I wait until I get a diagram like this perfect then I would never post it.  Feel free to post your comments about it…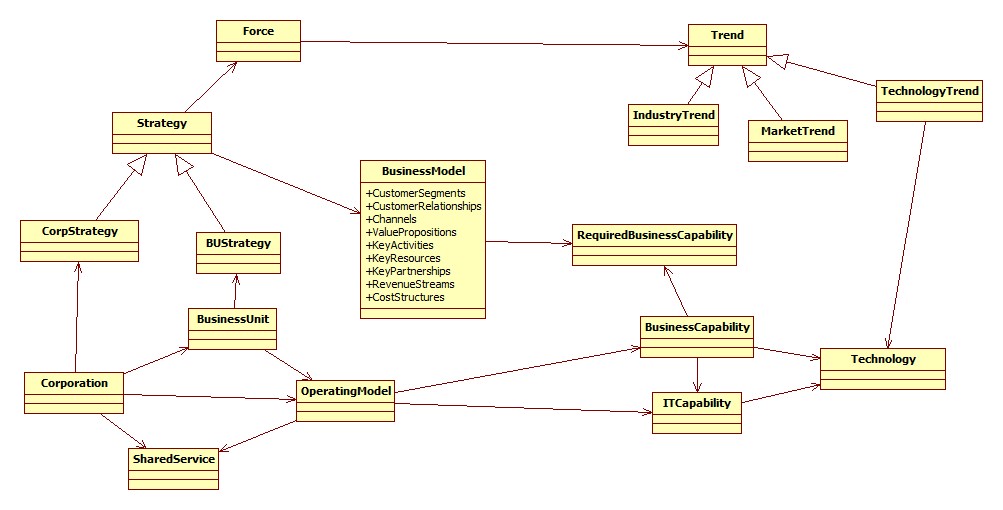 The key concepts in this diagram are: Strategy, Corporate Strategy, Business Unit Strategy, Shared Service, Operating Model, Force, Trend, Business Model, Customer Segment, Customer Relationship, Channel, Value Proposition, Activity, Resource, Partnership, Revenue Stream, Cost Structure, Required Business Capability, Business Capability, IT Capability, and Strategic Technology.