Forces: What do we consider?
According to my planning process defined in how it all fits together, creating strategy requires an environment scan.  Environment scan equates to looking at trends and forces.  Forces are important in positional analysis where we look at positions of strength and weakness that create opportunities and threats.
This series focuses on forces.
But which forces to we look for and how can we find them?
The Business Model Generation book provides a great graphic for forces and trends.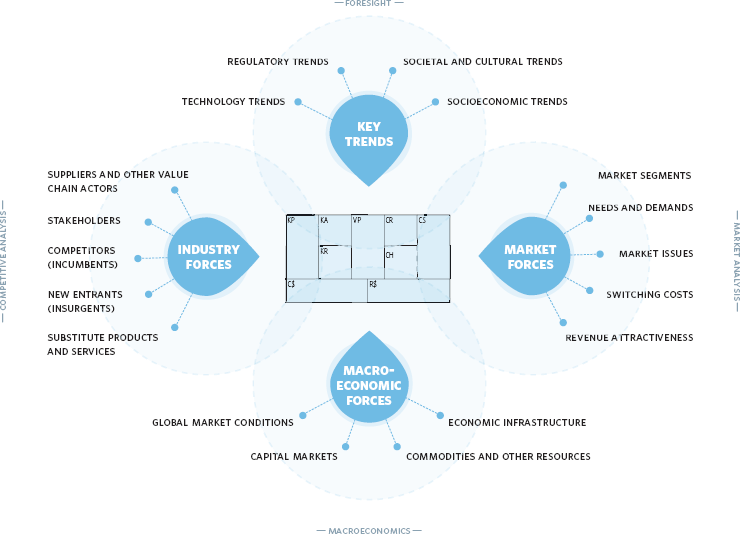 There are 3 categories of forces to be identified:
Market Forces
Macroeconomic Forces
Industry Forces.
MARKET FORCES:  Identified via market analysis and break down as follows.
Market Segments
Needs and Demands
Market Issues
Switching Costs
Revenue Attractiveness.
MACROECONOMIC FORCES:  Break down as follows.
Global Market Conditions
Capital Markets
Commodities and Other Resources
Economic Infrastructure.
INDUSTRY FORCES: Identified via competitive analysis and break down as follows:
Suppliers and other Value Chain Actors
Stakeholders
Competitors (Incumbents)
New Entrants (Insurgents)
Substitute Products and Services.
If you recall, Porter listed his famous 5 forces:
Supplier Power
Buyer Power
Threat of Entry
Substitute Products
Existing Competitors.
Refer to figure 3.18 of The Art of Strategic Planning for Information Technology by Bernard Boar.