This post covers the IBM Redbook: Using the IBM Security Framework and IBM Security Blueprint to Realize Business-Driven Security published in April 2013.
This book provides an introduction to the IBM security framework and blueprint.  I do not cover this here because I previously covered it in my post Managing Security and Compliance in Cloud or Virtualized Data Centers.
Business Context
From the red book: "Business and IT drivers influence security.  Business drivers measure value, risk, and economic costs that influence an organization's approach to IT security. Value drivers determine the worth of assets of the system to the business and of the business itself. Risk drivers involve compliance, corporate structure, corporate image, and the risk tolerance of the company. Economic drivers determine productivity impact, competitive advantage, and system cost.
IT drivers represent operational constraints in the general IT environment. For example, the complexity of a system, including its environment, that is exposed to internal and external threats presents risks that the organization must address. The IT drivers represent technical considerations that can affect the trustworthiness of the IT environment and the managed business systems as a whole. IT drivers are universal and must be considered within the context of the business drivers in all efforts. The combination of business and IT drivers represents the key initiatives for security management."
The following business drivers are covered:
Correct and reliable operation
Service level agreements
IT asset value
Protection of the business asset value or brand image
Legal or regulatory compliance
Contractual obligation
Financial loss and liability
Critical infrastructure
Safety and survival.
The following IT drivers are covered:
Internal threats
External threats
IT service management commitments
IT environment complexity
Business environment complexity
Audit and traceability
IT vulnerabilities.
IBM Security Framework
The IBM security framework covers the breadth of security.  I show applications and infrastructure here.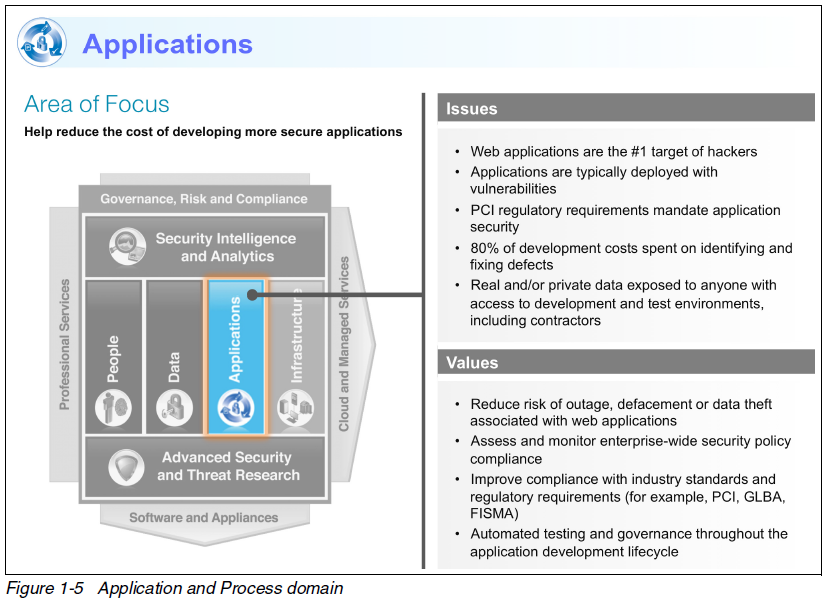 For infrastructure, and important point is the decision to use virtualization.  "Organizations are increasingly using virtualization technology to support their goals of delivering services in less time, with greater agility, and at lower cost. By building a structure of security controls within this environment, organizations can reap the goals of virtualization, such as improved physical resource utilization, improved hardware efficiency, and reduction of power costs, while they ensure that the virtual systems are secured with the same rigor as the physical systems."
 Security Maturity Model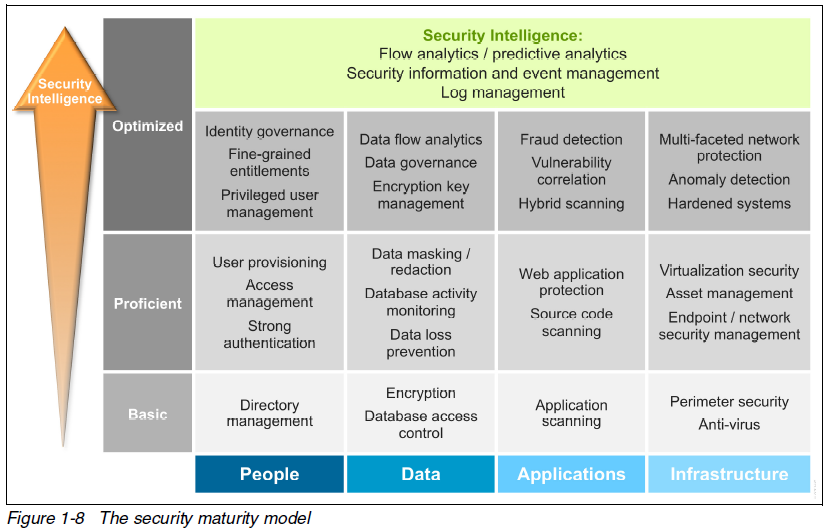 Security Blueprint
The Security Blueprint has the following foundational components:
Command and Control Management
Security Policy Management
Risk and Compliance Assessment
Identity, Access, and Entitlement Management
Data and Information Protection Management
Software, System, and Service Assurance
Threat and Vulnerability Management
IT Service Management
Physical Asset Management.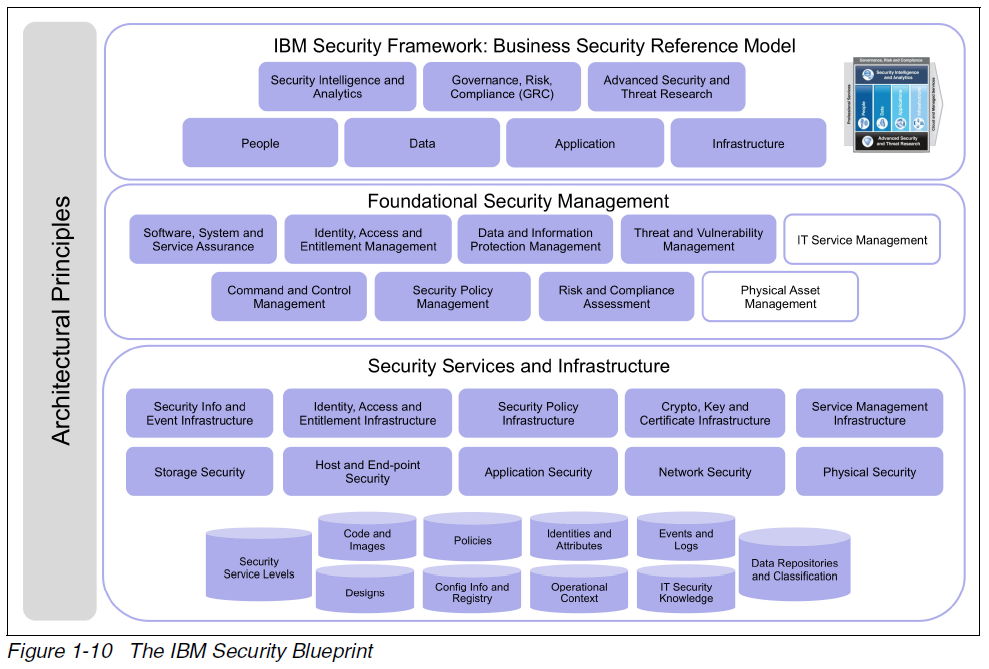 Architecture Principles
The following architecture principles are covered:
Openness
Security by default
Design for accountability
Design for regulations
Design for privacy
Design for extensibility
Design for sharing
Design for consumability
Multiple levels of protection
Separation of security management, enforcement, and accountability
Security-critical resources and awareness of their security context
Model-drive security
Consistency in approaches, mechanisms, and software components.
Foundational Security Management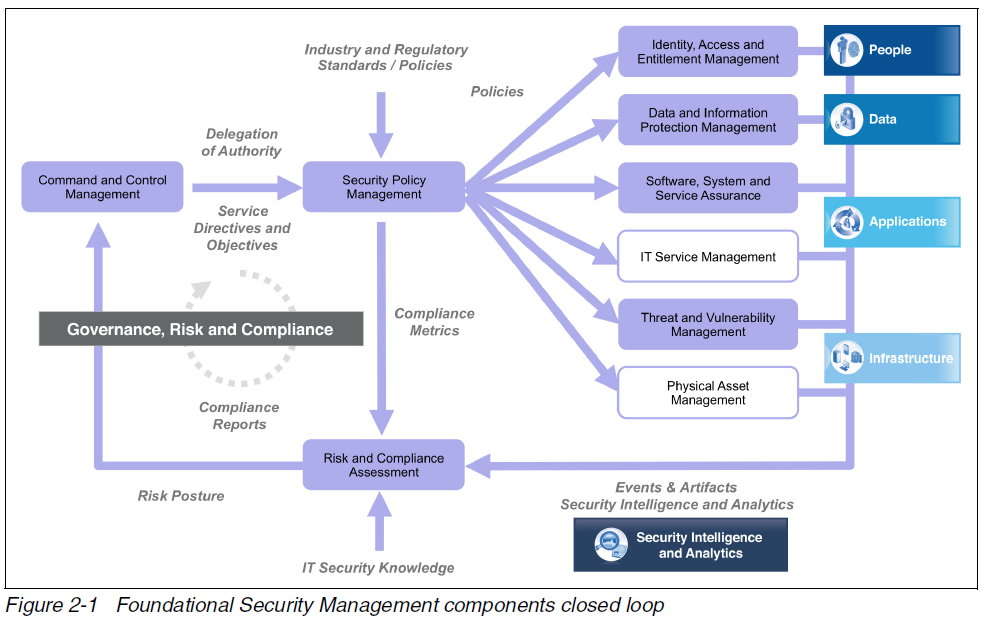 Security Frameworks and Standards
Frameworks include:
Standards in the Industry information security and privacy standards profile model: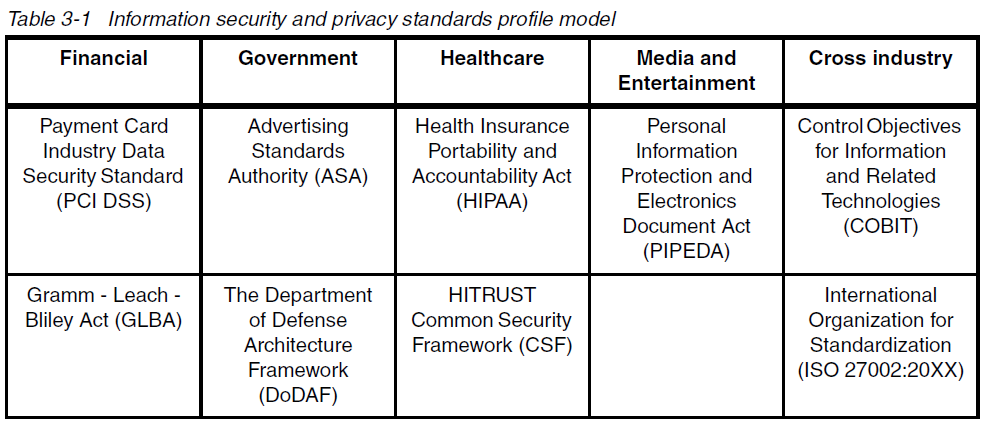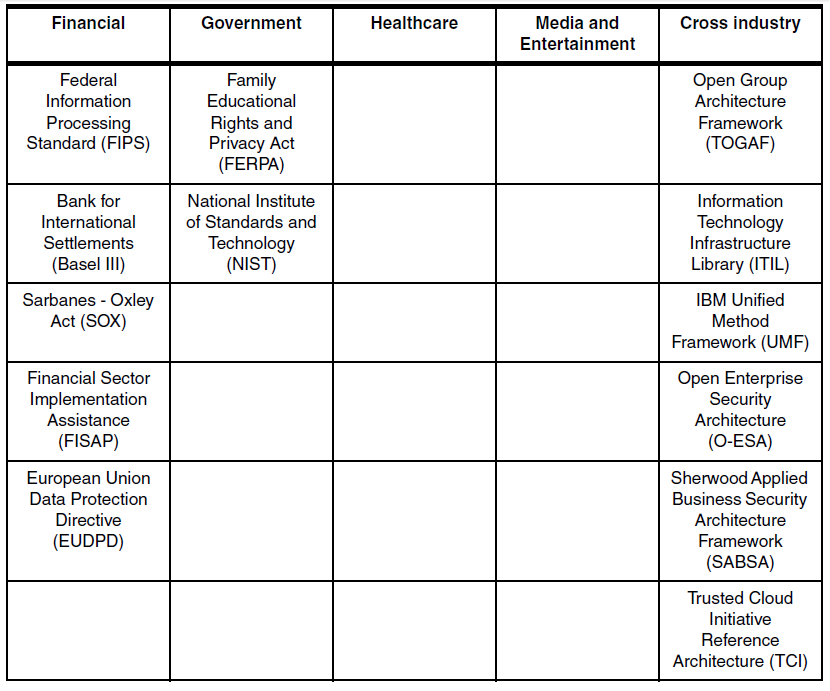 SABSA
SABSA looks at the following business requirements:
Low-cost development
Fast time to market
Scalability of cost
Scalability of platforms
Scalability of security level
Scalability of use
Reusability
Operations costs
Administration costs
Usability
Interoperability
Integration
Supportability
Risk-based cost and benefit effectiveness
Enabling business.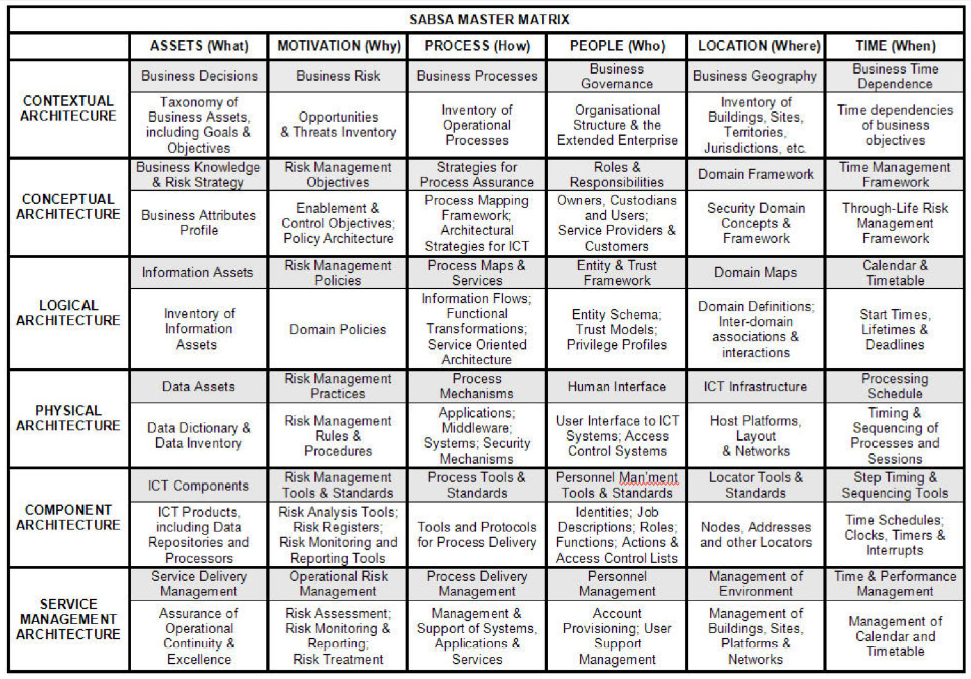 ISO/IEC 27002:20xx
ISO/IEC 27002:2005 contains 12 categories, or domains, that must be
considered when you apply an overall enterprise security approach. The
categories are:
Risk assessment
Security policy
Organization of information security
Asset management
Human resources security
Physical and environmental security
Communications and operations management
Access control
Information systems acquisition, development, and maintenance
Information security incident management
Business continuity management
Compliance.
 O-ESA
The red book describes how to use the Open Enterprise Security Architecture (O-ESA) from the Open Group to build an over-arching Enterprise Security Architecture (ESA).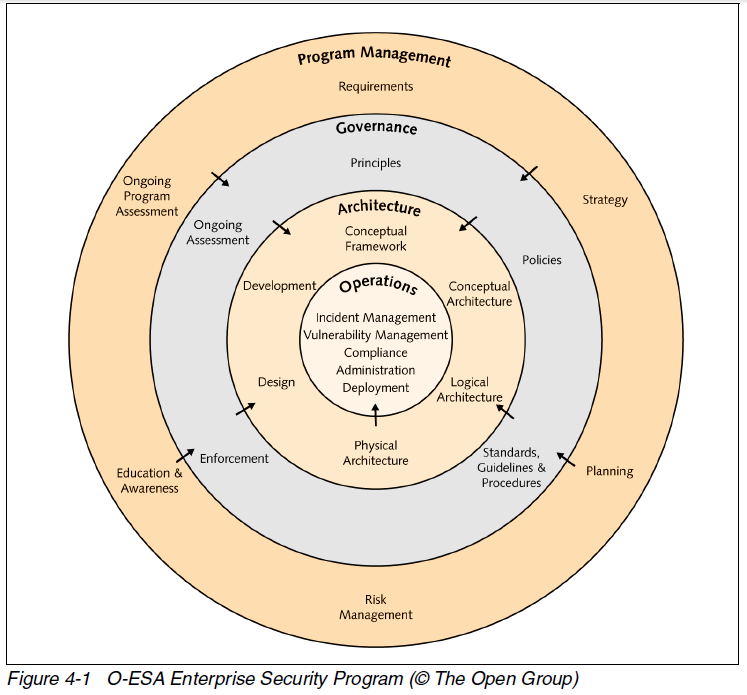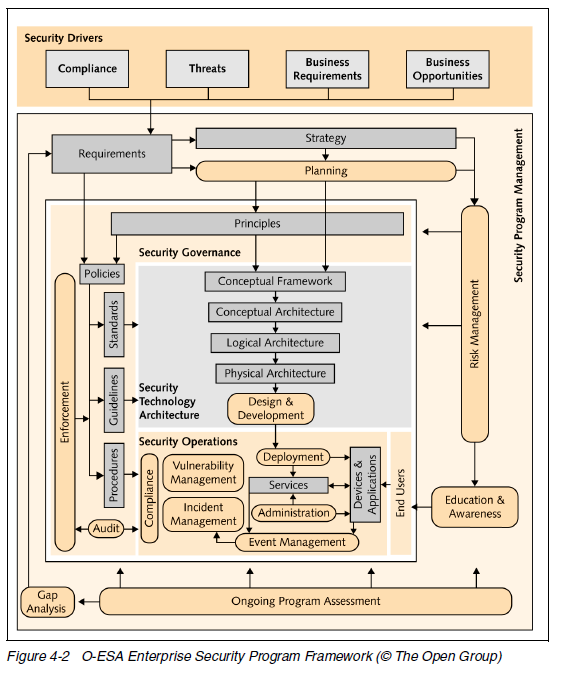 Policy Enforcement Points (PEPs) are included in the conceptual architecture: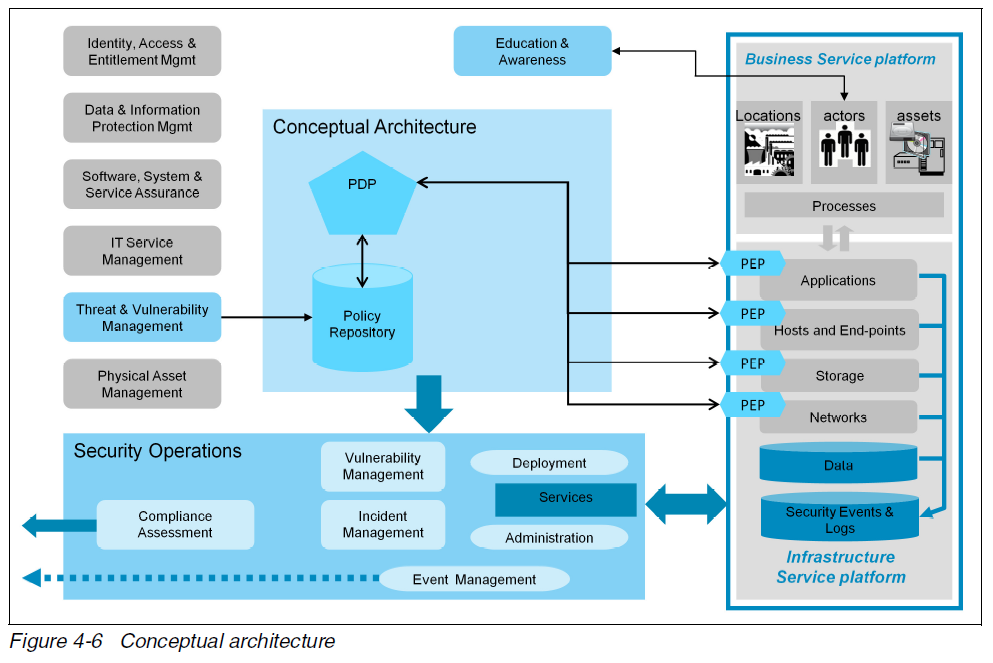 Example security domains are suggested:
Uncontrolled
Controlled (DMZ)
Restricted
Secured
External Controlled (3rd party).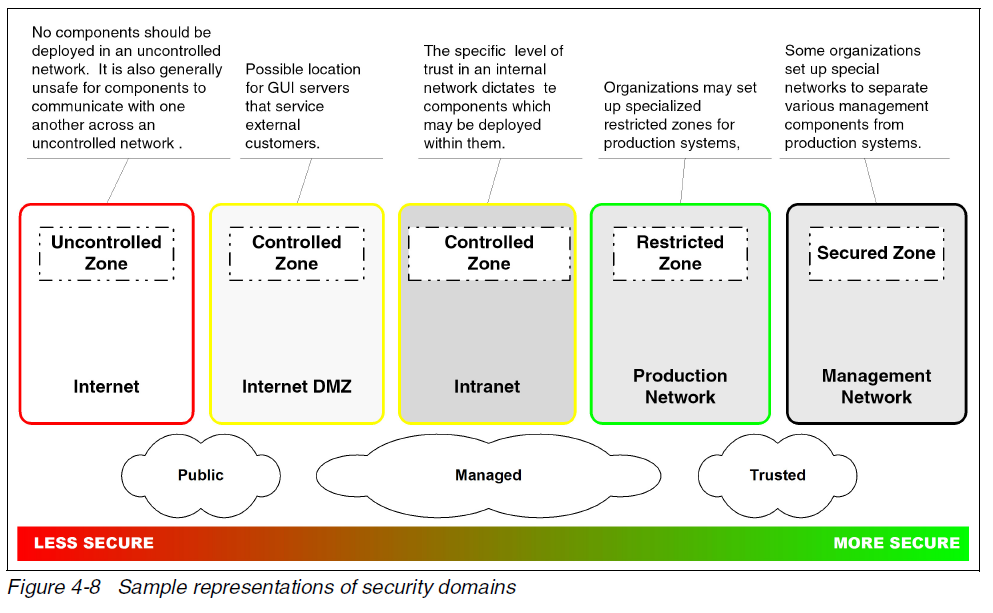 A process is provided to develop the technology architecture: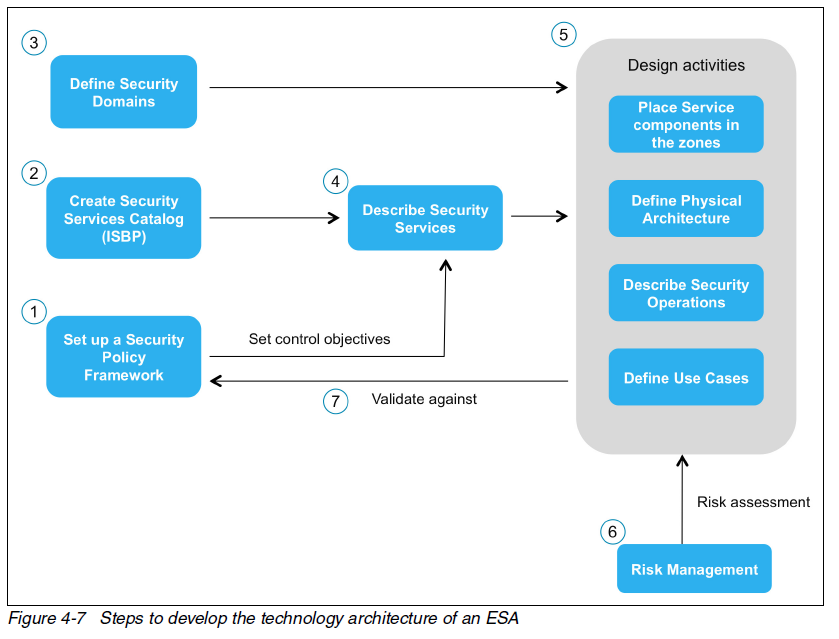 Setting up security zones is summarized and the reader is referred to another red book for details: Enterprise Security Architecture Using IBM Tivoli Security Solutions, SG24-6014.  However, this document was written back in 2007.  I would take a look at Addressing Emerging Threats and Targeted Attacks
with IBM Security Network Protection (redp4826) first.

An example is provided for healthcare mobile security where an example set of security policies are provided: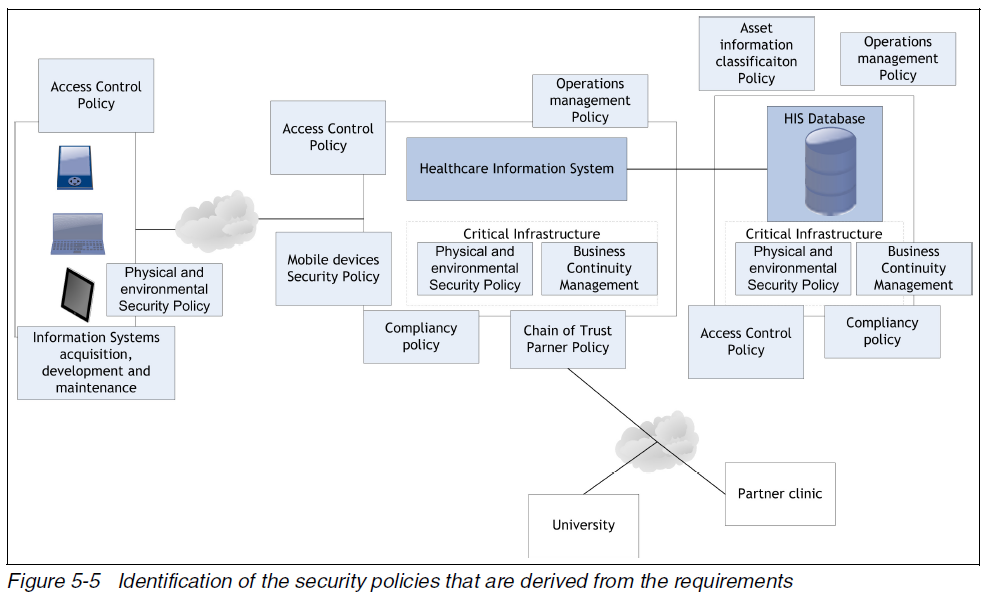 Example allocation of security services to zones is provided: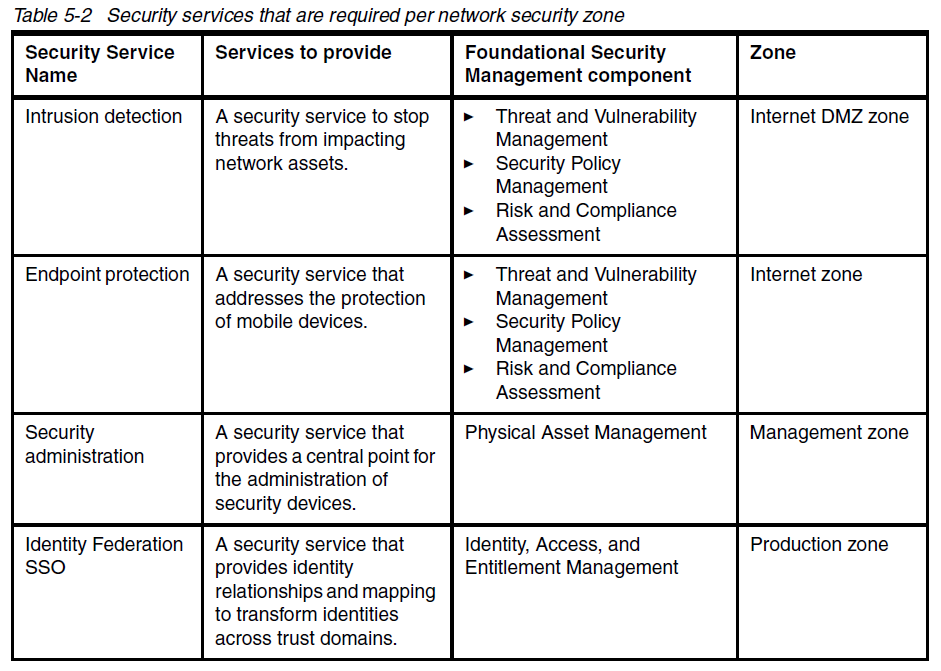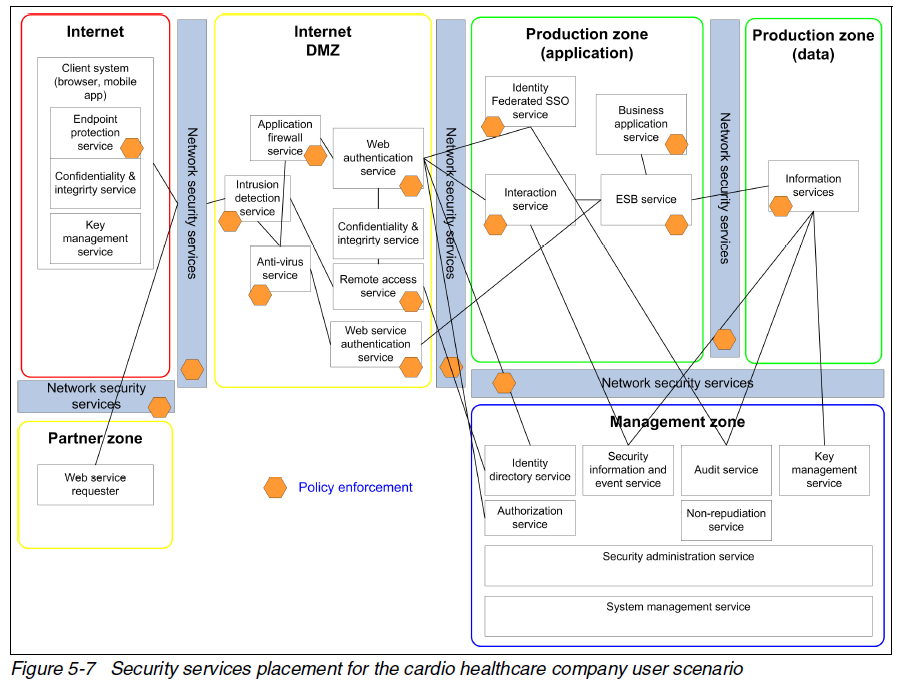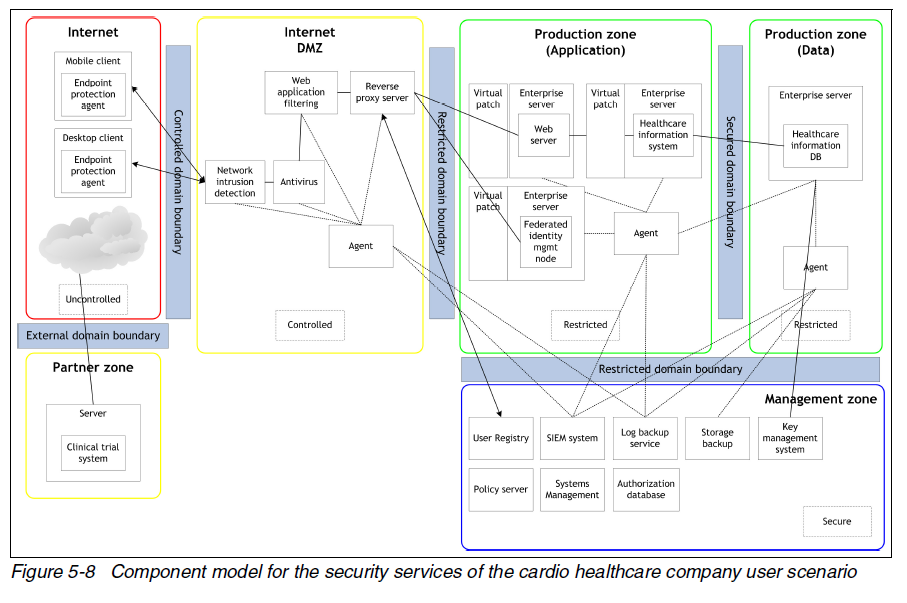 The red book introduces SIEM technology:
"Centralized log collection, analysis, and reporting on compliance for the Health Insurance Portability and Accountability Act (HIPAA), the Payment Card Industry Data Security Standard (PCI DSS), Sarbanes-Oxley Act (SOX), and ISO/IEC 27002:2005 is enforced by using Security Information and Event Management (SIEM) technology. This technology integrates the Web Security Server infrastructure. It also offers operating system-level monitoring that can collect logs from critical UNIX, Linux, and Windows servers. The SIEM solution is also able to monitor the network traffic flows between the components for abnormalities (unusual behavior) and identify data structures that are moving across the wire."
An operation model is provided for the example: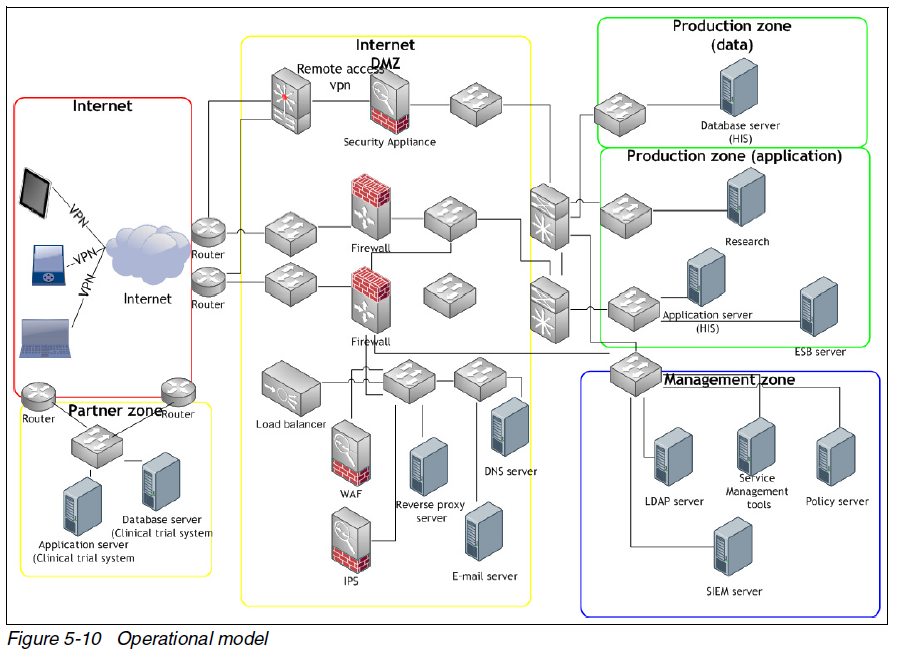 An SIEM operational view is provided: